Orchid journey
and

orchid journey notebook


are now available!





For quite a while now, I've been looking for a place to write down my notes in orchid care. No matter how long I searched, I couldn't find anything that was quite what I wanted. So I made my own, Orchid Journey. Then I listened to your comments and improved that book, which ended up creating an entirely new book: Orchid Journey NOTEBOOK.

Both are notebooks, journals, trackers, planners... They are not picture guides with glossy paper. They are journals, made to be written in. See below which one is more suited to your needs.


Orchid Journey (Care Guide Tracker and Planner)

In this beginners journal, you can write down observations about each orchid (up to 5 orchids for each genus: Phalaenopsis, Dendrobium, Cattleya, Cymbidium, and Miltoniopsis) and track the progress of each. With space to track 25 orchids (and 5 bonus ones), you can keep a detailed journal of what is important for you.

Everyone's environment is different; orchid care changes depending on where you live. You learn (by trial and error) what is the best method or technique to fertilize, but come next year, it slips away. By writing down the information you learn, you'll improve your orchid care. Less testing and more results with what has proven to be true in YOUR environment. The most important words in this journal are yours.

There's more... Did you ever want to go to an orchid show but come time to go, it's been over for weeks? The dates just keep slipping by. So, I've also included additional pages for you to keep track of Orchid Shows, Expositions, and New Books that are launched. As an orchid enthusiast, also I couldn't leave out pages for the famous "wish-list", since I never stop at just a few orchids.

With a summary of the basic care for these top 5 most bought orchids, you can personalize your care and see your orchids grow more each day. If you like to keep track of daily activities, then this journal will help you track your watering cycle, fertilize regime, hours of sunlight, and much, much, more.

Orchid Journey is a 369-page personal tracker and planner --available only on Amazon in paperback-- made you you to deepen your knowledge in orchid care as you experiment with different types of care for each orchid. Call it what you'd like-- journal, diary, notebook, observation tracker-- is where you'll take your learning to the next level.  If you are a beginner, this one is best for you!


ORCHID JOURNEY NOTEBOOK

In this version of the notebook, I've taken out all the care guides and added pages to keep track of not just 30, but 100 orchids. This is strictly a notebook/journal and is suited to any and all orchid genera that you like. It has no information, which is great because you already know the care guides, so no use wasting precious paper.

Although both are technically journals and trackers, Orchid Journey NOTEBOOK is a formatted notebook containing all the important parts of orchid care that you'll need fill out. This book is strictly a tracker and planner.

Because this one is only 200 pages, it is also cheaper than the first one. Hooray!




Orchid Journey: An Orchid Planner & Tracker


Plenty of Space for your Notes:
Made with extra quality-paper that doesn't bleed through the other side, this notebook is made specifically for writing.

The Perfect Size (5.5 x 8.5):
Big enough to fit in all your notes, yet small enough to carry in your purse or handbag, this journal is the perfect companion to take with you to orchid shows, expositions, and nurseries.

6 Pages of Specific Notes for Each Plant:
Fertilizing Schedule, Watering Cycle, Hours of Sun, Awards, Type of Potting Medium, Bud Duration...


Calendar-Free:
Just because the New Year has come and gone, you don't need to fall behind calendar-wise. This journal starts today--independent of what day it is.

Quick Care Reference for Each Orchid:
Forgot what humidity Cattleyas like? Turn to pages 35-47 because it's all there. With general guides for the 5 types of orchids, you have a hands-on reference to use all the time.

General Guides:
Besides the specif guides for each, other general categories that revolve around orchid care are explained: Humidity, Lighting, Fertilizer, and Potting Medium.

With Orchid Journey (either version), you'll visualize which care is the best for your environment.
In return, your orchids will grow better, fuller, and last longer.

Also, by implementing your own observations about what works in your environment and routine,
you'll lose less orchids due to inappropriate care.

These orchid tracker make all that possible. The end result is truly visible!!  

Orchid Journey NOTEBOOK

ranked #1
in New Releases in Orchid Gardening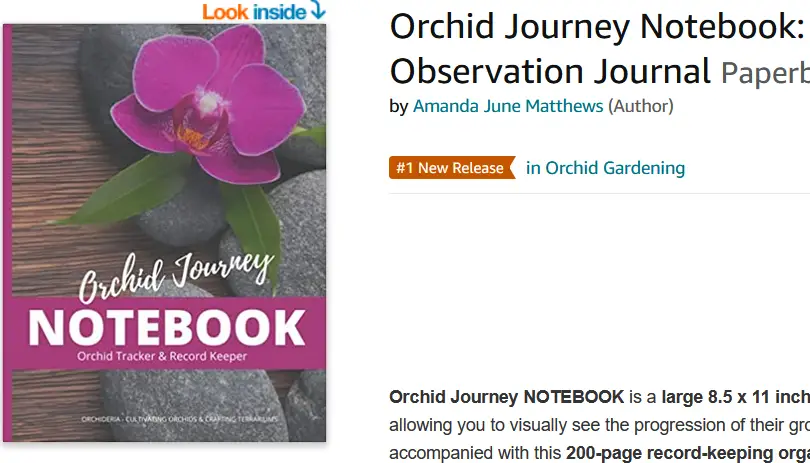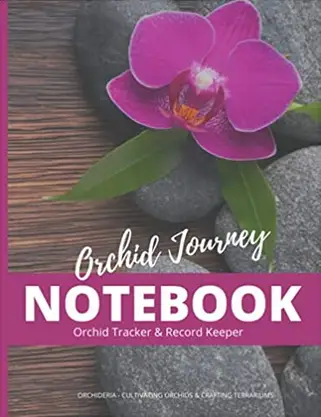 Orchid Journey

ranked #3
in Best Selling Books in Orchid Gardening
Keep All Your Notes in One Place

No more loosing post-it notes, note-cards, or papers that get misplaced. Keep all your orchid care notes--dates of orchid shows, wish-list, orchid books, and podcasts-- in one easy place.

Track Your Watering & Fertilization Schedule

Since each potting medium is different, the water retention of each will vary. Eliminate the guesswork in how much water you used in the last watering and how your orchid reacted.
*Detailed fertilization tips also included.

Visualize Growth Patterns

Compare last year's growth to this one and see how each orchid has progressed. Being able to compare visually what methods work makes orchid care a breeze, eliminating the necessity of hunches & speculation.

Ideal Size to Have At All Times

The last thing you need at an orchid show or exposition is a huge laptop-sized notebook getting in the way. This journal is big enough to see your written notes, but small enough to fit in your handbag or purse.

Consult Care Guides Quickly

 Having a hard time remembering what the temperature range was for each orchid? This journal has 5 detailed care guides (that are easy to follow) at your fingertips so you can refer back to general guidelines anytime.

Record 30 Orchid's Progress

With space for detailed notes up to 30 orchids, this journal urges you to expand your orchid collection. When you are just beginning, it's easy to buy the same orchids. Add new orchids to your wish list, eliminating impulse buys.

With so many online guides, each person saying to try this new method or that new technique, it's hard to know what works for you.

That is why you have to test and experiment with the methods that are suitable for your environment. How do you remember all that over the years? With this journal, you can keep all your notes and progress. (How many months ago did you fertilize anyway?) With this tracker, you'll better visualize what works and what doesn't, eliminating the methods that didn't work for you.


ORCHID JOURNEY

Not Your Simple Plant Planner

This journal is designed to track orchids, with specific information that is related to orchid-care.