An orchid keiki is a baby replica of the mother plant, a clone with the exact same DNA, reproduced asexually—not by pollination. This new baby plant will display the same flower pattern, shape, colors, and texture as the mother plant.
Keiki means "the little one, child, or baby" in Hawaiian, which is where the term originated.
 When it comes to orchid propagation, many questions arise. Below are the most common questions about keikis and detailed answers on how to care for them.
 Growing Leaves in Weird Places?
This is a common question until you realize that it's not exactly a leaf. When there are growth hormones in excess, naturally produced during the development of a flower spike or new leaf, these hormones can induce the birth a of a keiki.Some orchids have a tendency to produce more keiki's than others.
Dendrobiums,
Oncidiums,
Epidendrums, and
Phalaenopsis

orchids all have a high production rate of keikis. Other orchids hardly ever produce keikis.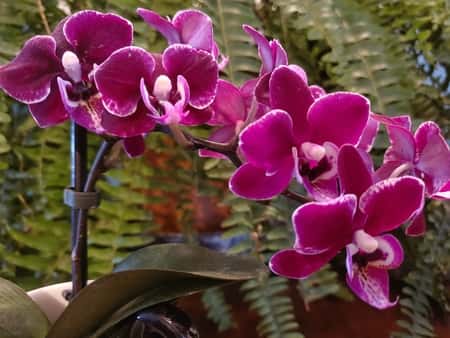 Image Credit: © 2020 Orchideria.  All Rights Reserved. 

Keikis can be produced in two main places:
1) on a node along the flower spike and

2) near the stem, by the pseudobulb.
What do Keiki's Say About the Health of my Orchid?
Don't be extremely overjoyed at the first keiki that develops. Sometimes, keikis might be a sign that the orchid is under extreme stress and is trying to save its species before it dies. In attempts to not go extinct, it will use all its energy to produce a keiki.

It's extremely hard to know when the keiki is a result of great growth and excess hormones, or when it's a sign of stress. One good indicator is if a flower spike has shot out along with the keiki. This is an extreme sign of stress: a flower and a new plant before I die. Bucket list complete.
Other times, orchids are so healthy they have plenty of energy to produce a new plant.
Check all the signs of proper orchid growth: temperature, humidity, air flow and circulation, sunlight, fertilizer, and watering to see if your orchid is in the right conditions.
Most important: check the potting medium. If you change potting mediums from something the orchid was familiar with to a totally new potting medium, it might not adapt well. Check all the conditions before rejoicing with the new keiki.
Once verified, then party! You have achieved a job well done in orchid growing!!
What's the Difference Between Keikis and New Growth?
Don't mistake a keiki for a normal growth on your orchid. Orchids will produce flower spikes and new leaves constantly, which is the normal life cycle of an orchid. Especially if you leave the old flower spike on the plant after the blossoming period is over. This will naturally induce another bloom, whereas cutting back the flower spike will prevent any new growth from the spike.Sometimes, though, it's not a bloom that the orchid will produce.
A keiki is very different, in that it will start producing its own roots and leaves. It might look like a flower spike at first, but "soon" new leaves and roots will spring forth from this growth, and not from the original stem. By soon, I mean in 6 to 8 months.
How Do I Get Rid of Orchid Keikis?
If you don't want to keep the keiki on the Phalaenopsis, you can remove it. The elegance of the Phal orchid with it's one slender spike is maintained by removing keikis after they are mature enough to live on their own.
If you leave the keikis on the mother plant, they will eventually grow into their own plant, changing the overall appearance of the Phal. The two connected plants become bushier and wider. Eventually the flower spike will not be able to support the weight of the keiki and it will bow down, searching for bark.  
To prevent any keikis from growing, cut back the flower spike as soon as all the blooms fall off. This will force the orchid to either go dormant for a few a few weeks (Phalaenopsis do not have a dormancy cycle) or focus on root and new leaf growth.
Be sure to cut back the flower spike with a sterilized knife and apply cinnamon to the open wound on the spike after the blossoming period is over.
What is Keiki Paste and How Does it Work?
On the other hand, let's say you want to induce new growth after the yearly blossom has fallen off. What induced the new birth of a keiki is the excess hormones in the mother plant. This phenomenon was studied by orchid enthusiasts, and they replicated these hormones into a paste.Keiki paste is a stimulant that is rich in growth hormones. Not all pastes are keiki paste, so read carefully what you buy. Most pastes are for root growth. Orchid growers discovered that if you apply a paste that is rich in growth hormones (cytokinin hormone) to specific places—nodes—on the orchid, keikis will be induced.
The science behind the keiki paste: all plants have auxins that flow within the plant. Auxins are specific plant hormones that cause the elongation of cells in plants, giving them the growth pattern that is necessary. Auxins concentrate on the higher portion of the plant, where active growth is forming.
If the plant suffers from a fire, broken off, or devoured by a predator, the auxins in the base of the plant will sense the loss of flow from the top and kick in at a lower point on the plant. They produce new growth from the dormant nodes closer to the base. This growth can be new leaves, a new flower spike, or in our high hopes, a keiki.
Don't cut back the spike,or at least, cut it back leaving a few nodes on the stem. Then apply keiki paste to the nodes, before they develop into either a new spike or new leaves.
When Do You Remove Keikis To Repot Them?
You should keep the keiki on the mother plant until it has at least 2 leaves and 4 roots of its own.  Some people say to leave the keiki on the mother plant until the roots are 3 inches long. A third group declares the 3-3 rule: three leaves and three roots.
I prefer to go by number of roots than length.
Why? If you are relying on only one root that is three or four inches long, the possibility that the root will be able to supply enough nutrients to maintain survival are minimal.
Three or four roots, even though shorter, can spread through the potting medium, expanding the surface area to access water and nutrients. If one root dies, you still can count on the other three to keep the orchid alive.
How Long Does It Take for a Keiki to Grow?
This can take anywhere from 8 months to a year to form. Be patient. Removing the keiki from the mother plant too early will hurt it, since it relies on the mother plant to maintain its survival.
How Do You Repot a Keiki?
There are 2 ways to remove a keiki. One is to twist it off at the base of the flower flower, where it is attached. The other way is to leave part of the old spike on. Once the 4 roots are healthy and firm, cut the flower spike about two fingers from the keiki. Let's say you cut it too near the keiki. If an infection sets in, there will be no way to remove it without damaging the keiki.
Always leave room for possible ways to remedy causalities.
Also, the flower spike—even though small—will give the new keiki some stability when it comes to potting the keiki in its new pot.
To be safe, pot the keiki in the same pot as its mother. The mother plant can regulate the humidity, water levels, fertilizer needs, and pH better than the keiki. This maintains the keiki stable until it has enough roots that can do this by itself, which will coincide with the next potting period in 2 years.
If you want to repot the new keiki in its own pot, chose a tiny pot and repot with a finer-grade potting medium, preferably bark. I use pure sphagnum moss for all my keikis, but keep an eye out for over-watering. 
In all cases, the roots on the new keiki will be aerial roots, since they grew from the mother plant on the flower spike.Aerial roots don't like to be placed under potting medium once they are fully formed. Worse if it's humid sphagnum moss. This is why bark is more appropriate, since bark lets the roots dry out thoroughly in between each watering. The moss, on the other hand, will retain a lot more water and humidity.
If you use pure sphagnum moss, the fully developed aerial roots will have a hard time adapting. These will eventually die, but in their place, new roots will form that have a better chance of surviving. 

You'll need to mist the new keiki plant daily until it is stable and old enough to wait a few days between watering. Tender, loving care is always good when treating keikis.
Don't Stop Learning!
If you want to be included in a more information and get a 14-page fertilization guide, please sign up for my newsletter. I don't spam, but send emails out bi-monthly with some curious topics of interest. If you want more information, click here to go to a specific page on this website where I explain it more in detail.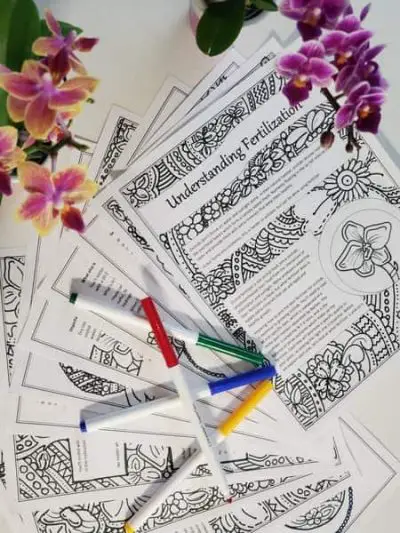 Also, if you are looking for an orchid journal to keep your notes specifically about orchid care, check out my 2 solutions for that on this page. If note-keeping isn't your thing, then there is a free excel spreadsheet that you can download. Click here for more information on how to do that.
If you subscribe to my newsletter, I will send you a 14-page guide on the main tips of orchid fertilizer. It is downloadable and you can print it out on your computer. I designed the guide to double up as a coloring book, just to make it fun.

If this article was useful, or if you have any questions, please comment in the box below! I love to interact with other orchid growers and enthusiasts, no matter what level of expertise.
Happy Cultivating!