Note: ORCHIDERIA.COM DOES NOT SELL THE FOLLOWING ITEMS.
I just recommend them and show you where you can purchase them. I'm not responsible for payments, shipping, returns, or anything else. I don't own a retail store, just an educational website.
All the pictures have links, and the  bold words are links to the seller on Amazon. I did this to head you on the right track, so you can choose the perfect gift for the orchid lover in your life…or the perfect gift for yourself, because let's face it, we all need some self-love. 🙂 
Looking for live plants? If you want to gift a live orchid, check out this article, which has some pointers to what to know before buying orchids online. It also has my recommendations for good online sellers.
Let's start.
You want to buy a gift but are wondering if an orchid is the right present for the orchid lover in your life. In this article, you'll find suggestions about orchids and other gifts that aren't flowers, but they'll love just the same. Find out the meaning and connotation of what each orchid signifies, and whether or not it's the appropriate gift to be offering. 

What's does gifting an orchid mean? What underlying meanings could you be portraying?
Giving flowers is a tradition that can be found in almost every culture: Romans, Greeks, Chinese, and Egyptians. Romance is the first reason as why people use flowers as gifts, but a single rose or a whole bouquet of roses can signify several things: an apology, a desire, support through difficult times, or a thinking-of-you gift.

Roses are more easily interpreted, but what do orchid as gifts mean?
Appreciation. Deep appreciation.

Orchids are not for a day-to-day gift, (mainly because of their exorbitant prices) but of exceptional excellence and hard work that has paid off. It's a gift that took at least eight months to flower, and the receiver deserves every single hour of that long-awaited dedication.
If you are still gifting an orchid to a person who has no experience with orchids, I recommend a book on how to care for orchids to go with it. Since even experienced  growers will not feel at ease with their first orchid, these books are a good start:
Understanding Orchids: An Uncomplicated Guide to Growing the World's Most Exotic Plants

The Book of Orchids: A Life-Size Guide to Six Hundred Species from around the World

..and of course there is, uhm, well… my book. 🙂 If you want tohave a comprehensive guide of 5 starter orchids, then this book is definitely one that will interest you.   You can see more information about it here.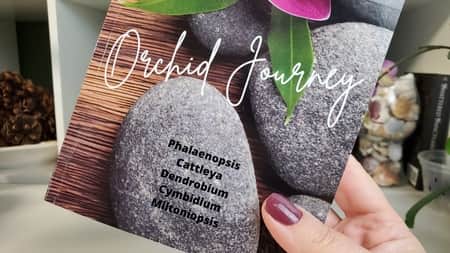 Orchid Gifts for Co-workers, Colleagues, or Bosses
Orchids are not readily seen as a symbol of love—roses are. Orchids lye in a more exotic category of fascination and respect. As slow growers, they transmit above all peace, serenity, hard-work, and competence. This is why they are mostly seen in office environments, especially the moth orchid (phalaenopsis).
There are several motives behind this reasoning. The first is that office environments are low humidity which not too many plants withstand. Yet, with a top layer of sphagnum moss to provide proper hydration and humidity, orchids can thrive in this environment.
Orchids are wrongly accused of being hard to grow plants, fussy about their environments, and hard to care for. This is totally off, but one thing is true: they are slow growers. The second reason is they take dedication, effort, and knowledge. These are all qualities that are highly favored in the work-force.
Another reason that the orchid is such a great gift for co-workers, colleges, and bosses, is that these plants signify dignity.

When gifting a person who likes orchids, you don't have to stick to only flowers. These ideas make perfect presents for the orchid lover.
Clocks with orchids on them are irresistible as gifts.
Orchid Gifts for Romantic Partners and Significant Others
Stay away from the phalaenopsis orchid (moth orchid) for this one. Even though it is the most gifted orchid of all, the underlying significance is that the relationship is platonic.
"You'd give a moth orchid to your secretary; not your wife" is the thought we're going for here.  Chose the cattleyas or dendrobiums. Cattleyas are the preferred orchids since their flowers are (in the most part) bigger and more vibrant. These flowers are colorful, usually a deep purple, red or yellow. The exotic colors signify a strong bond which still thrives with a spark.
This orchid flower arrangement gift comes with real flowers and lasts an extra long time.
The meaning behind this is two-fold: orchids require work. Most people who do not grow orchids perceive them as difficult plants to cultivate, with only a few months to flower, compared to other household plants. Even though these myths don't stand the test of truth, one thing is certain: to gift an orchid means you're dedicated to this relationship.
All relationships take work—comprehension, forgiveness, vulnerability, and dedication—and this is exactly what you're saying when you gift an orchid. Not that the person is hard to get along with, but that you are willing to work at and maintain a healthy relationship. You are dedicated to giving this relationship a shot, and that the other person is definitely worth your time and attention.
"You're high maintenance" is not the meaning we're aiming at. Be careful when saying the words above, because that tangent is pretty close if not well-worded.
Orchids designed into  jewelry are always a good way to portray a beautiful gift and express how much you love your partner.
This pendant of an Orchid is both stunning and beautiful.
 
This sterling silver Orchid Pendant makes an excellent present.
This  Orchid Pendant is another great gift!
Orchid Gifts for Special Occasions: Graduations, Birthdays, and Anniversaries
Nothing more special than being gifted an orchid that will long outlast cut flowers and floral designs. With the moth orchid that can bloom for more than four months, orchids are the perfect gift for special occasions.This beveled glass frame of orchids and dragonflies will enlightened any orchid lover, as the sun sparkles through the window.
With this present, a unique floral design will come in handy—not just the orchid in a basic pot. For anniversaries, choose the color vase which is appropriate to the year (gold and silver are common).
A special vase isn't the only way to make an orchid gift shine.
A massive centerpiece for a living room table is a present that will always bring back cherished memories every time the person walks by it.These centerpieces aren't as expensive as you think if you make it yourself. Add a few logs, twigs, and some sphagnum moss, and you're set to go. The best thing is that when you say you made it yourself, the present reveals a whole new depth.
The creativity, the uniqueness, and the final floral design which is just amazing, is such a stunning gift. The best news: you don't even have to be a green thumb to set these floral designs up. They're easy, fast to make, and the final result is amazing.
If you don't have a green thumb, then check out these three already made orchid floral designs as gifts below.
Phalaenopsis and Bamboo always make a fascinating floral design. 
A vibrant array of orchids always makes the best gift for coworkers and bosses.
Cymbidium orchids make charming floral designs.
Best Orchid Gifts for Mother's Day
This is the most famous flower-giving holiday of them all. At Orchideria, we'd almost say that your mother is silently expecting a flower as the norm. Potted flowers are a step up from cut flowers, since they'll last longer.
In this topic too, we'd suggest staying away from the typical moth orchid that you can find everywhere. Why? First is because this plain, white orchid is the most "unsentimental" of them all. It's more of a duty that is being done, and an item to cross of your endless to-do list.
A decorative  bedding set with throw pillows and sheets also makes a unique gift for mom, the orchid lover.
Buy a flower for mom. Done.
Please don't do that.
Even though the moth orchids (phalaenopsis) are beautiful, exotic plants, they are also easily found in supermarkets and grocery stores. Believe me: she'll have walked by them every day she buys groceries. She knows how much they cost. She's seen them before.
Nothing special here, not even with the color (most moth orchids are white).
Go to your nursery or local flower shop and pick out one that she hasn't seen—one that is more vibrant and colorful. The best orchid gift for mom is one that she doesn't see when she's doing chores.
Best Orchid Gifts for Men
Since it's not habitual to gift a man with an orchid, a great gift for men would be an orchid with a terrarium to mount. Adding the "do-it-yourself" aspect to the present will give your man the empowerment that he needs with the orchid gift. 

Below are just some of the many ideas that you can choose when it comes to the best orchid gift for men.

H Potter Glass Terrarium Wardian Case Succulent Planter

Ferrisland Handmade Black Large Glass Terrarium Irregular Geometric Planter
Urban Born Glass Terrarium, Birdcage – 9″x9″x10″ (Urban Black Steel, Large)
Orchid Gift for Loss and Sympathy
This is the one category that we suggest not to gift an orchid. Even though it is a beautiful gift, it isn't as practical The pain is unbearable of losing a child or being in the hospital in ICU.
The gift will be remembered by the occasion, and for months on end, the person who received the orchid will be reminded of the suffered loss.
This orchid valley cross is a great gift for someone who has lost a pet cat, dog, rabbit, horse, or even a goldfish. With beautifully engraved orchids, this git will tell the orchid lover that you feel their pain.Orchids require constant care as in watering, fertilization, sun-light, humidity, and air circulation. A present with so many details to learn is a bit more complex than a card. Without proper care, (which in all honesty, a person suffering a loss cannot handle) will die in time, which just adds loss to loss.
If all else fails, Orchids Pots come to the rescue as Great Gifts.
NCYP Brass Glass Geometric Terrarium,
Home Tabletop Decor,  (No plants are  included, but I suggest adding a mini Phalaenopsis) Pennington Gongora Orchid Planter (5-inch, Coral) Sometimes the hardest gift to find is no the orchid, but the perfect pot!

4″ x 6″ Hexagon Ceramic Orchid Pot by rePotme (Teal Jade)

Another option for a unique pot that makes the perfect gift.

Now that you know all about picking the right orchid for the best occasion, it's time to get your hands dirty. Check out some of our tutorials on how to water your orchid or how to add charcoal to your potting medium in your newly gifted orchid.
If this information was of any help or clarified any doubts you had, please mention so in the comments. We love to interact with other orchid enthusiasts, and can share from our experiences.
Share this page with a friend who has an orchid, comment, or give me a thumbs up 😊 in the comments below.
Happy cultivating!